News and Events
CBS Overall Goals 2021-2022
Expand CBS Overall Focus
Enhance the Student Experience
Promote and participate in Research Activities
Diversify CBS Service Options
Service Delivery 2021-2022
As of January 2022, CBS has shifted its focus for services. At this time, CBS is not offering individual clinical services, however, we are planning some new group-based services. We have a mailing list for families so we can inform them of opportunities. Families can join the mailing list by emailing us at CBS.
We no longer maintain a waiting list for autism clinical services. As we develop our services, we will post in news and events and we welcome your ideas!
CBS Professional Speaker Series
Our CBS Professional Speaker Series offers an opportunity for SLC graduates and professionals to share their stories of their careers from school to professional work in the field of Behavioural Science.
Students were invited to attend in March to hear professionals share their experiences and reflect on applications of Behavioural Science and interprofessional collaboration. This has been an exceptional opportunity for students to learn how others started and built their careers while advancing Behavioural Science.
On Wednesday, March 2nd, 2022, we welcomed Rachel Greenwood (ABI Case Manager, Rehab Consultant), Michelle Lane-Barmapov (Founder of Montessori ABA), and Stafford Murphy (Executive Director at Resolve Counselling).
On Wednesday, March 23rd, 2022, we welcomed Scott Bark (Director of Autism Services, Kinark Child & Family Services), Gerry Bernicky (Director TRE-ADD, SSP, and Urgent Response Services, Surrey Place Centre), and Laura Cavanagh (Coordinator of the Behavioural Sciences program at Seneca College).
Thanks to the presenters and everyone who attended Sessions 1 and 2 of the Professional Speaker Series. Stay tuned for future sessions.
CBS Newsletters
Click the links below to view our monthly newsletters.
Climate Champs
Climate Champs is an interdisciplinary team of researchers, students and community members dedicated to addressing the problem of climate change at a local level. Our research is driven by our common goal to change human behaviour for the betterment of our climate. Our values include scientific knowledge, energy systems technology, behavioural science, and evidence-based practices for creating solutions to the climate crisis.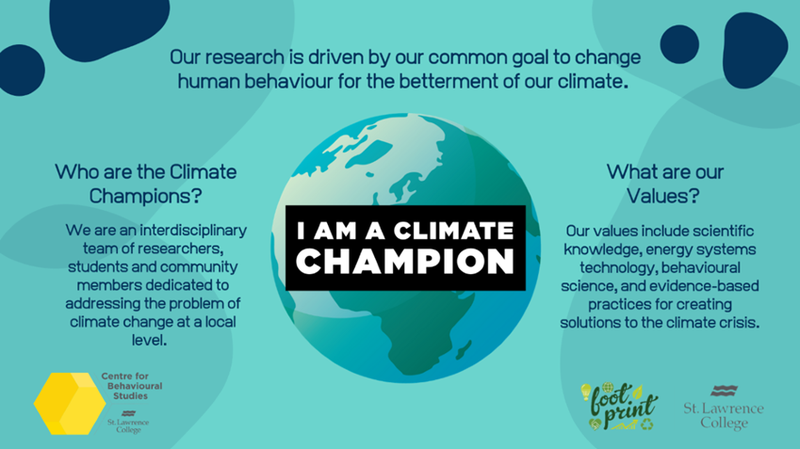 Are you interested in contributing or getting involved? Let us know at cbs@sl.on.ca Stay tuned, as we learn more about their activities here at SLC and in our broader community!
Check out this interview from 2020 with Pamela Shea and Meaghen Shaver on A Climate for Change, hosted by Dan Hendry.
Registered Behaviour Technician Training
This online course is offered by St Lawrence College, in Ontario, Canada, and is based on the second edition of the Registered Behavior Technician (RBT) Task List published by the Behavior Analysts Certification Board (BACB).
It is designed to meet the 40-hour training requirement for RBT certification. The course covers the basics of Applied Behaviour Analysis (ABA) and has relevant Canadian content designed and delivered by SLC Faculty.
Download our RBT Flyer here
Click here for more information.